Our little guy is EIGHT MONTHS OLD!!! He is so much fun. He suprised us one morning with another tooth cutting through. We didn't even notice it because it hadn't been bothering him!! So, he now has 3 teeth!

He also ...

Walks while there's something to hold on to.
Waves bye-bye &
Claps!

He is the cutest little guy EVER!

Here is is playing in the buckets from my bulk food order. He thought it was so much fun :o)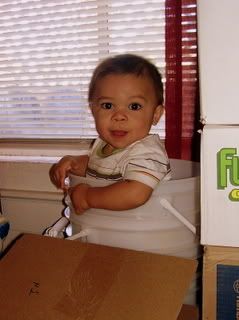 And our County Fair was this past weekend & my mom was here so we all went together. Kason had fun. He loved all the lights and the animals. I always enjoy it but I didn't like all the smoke and all the people. OR the cost of food!! My goodness it was expensive! But, it was still fun. I'm glad we were able to go. Kason was so worn out by the end of the night though!!!