Saturday, June 28, 2008
Monday, June 23, 2008
For Memorial Day we just stayed home, BBQ'ed some ribs and played outside. Kason went swimming in his little pool and had a blast.
Then Tuesday we left for Payson and we TRAVELED the White Mountains.

We went to Payson, Jo City & Eagar.

In Payson we just hung out with my family, took Kason to the park and relaxed! The weather was so nice up there. That is one thing I miss about living up there!!
On the way there we stopped at Roosevelt and had a picnic and we walked out on the pier for Kason to see the fish. He thought they were pretty cool and we could tell he wanted to get in the water!!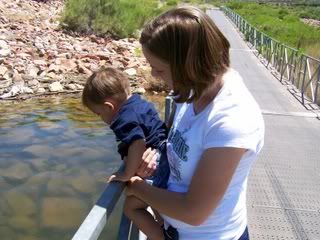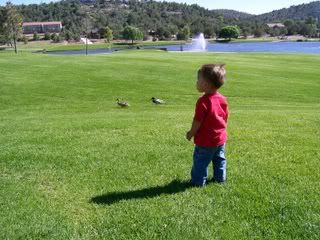 In Jo City we visited Alicia, Danny & Lacy Deets. Kason and Lacy are exactly one month apart so it was a lot of fun to watch them play together!! They really took us out on the town (well, as much as can be done in Jo City!) We checked out Speedy's: you're all-in-one shop, Hansen's Auto Repair (Alicia even hooked us up with shirts - they're awesome), Mr. G's Pizza (yummy!) and Kason got to ride a horse. It was a fun few days and I was sad to leave! Thanks SOOOO much Danny and Alicia for being so great!! We miss you guys here!
Kason giving Lacy "loves"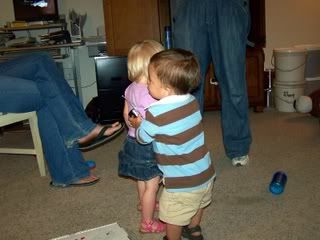 He wasn't to sure about the horse: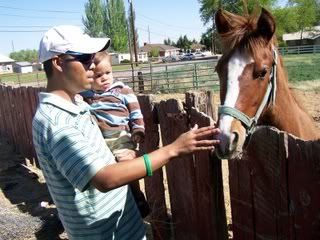 He was happy as long as the horse was moving, as soon as it stopped he started crying: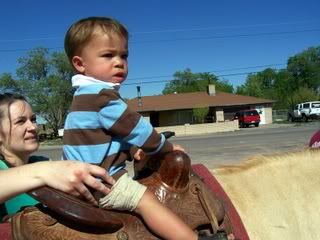 He's such a typical boy, he would much rather play in the dirt: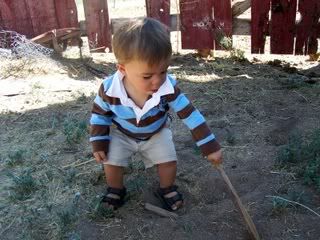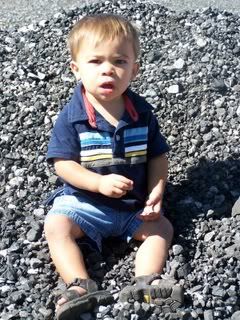 We didn't realize it at first but those rocks were actually asphalt so they were both covered in black. whoops!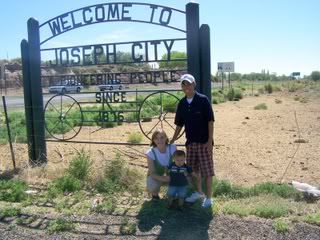 After Jo City we drove to Eagar to see Rand and Karen Baker. On the way there we stopped in Snowflake because Kameron had never seen the Snowflake temple! So, we went to see that and then headed on to Eagar.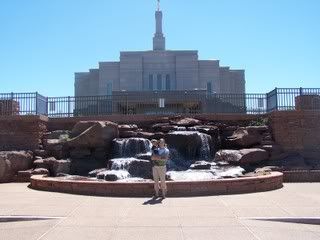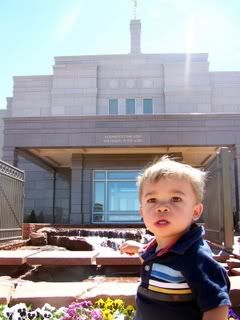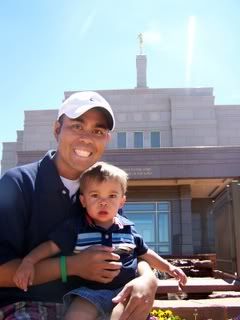 We went to Eagar because the Bakers were blessing their new daughter, Raegan. It was fun to see them too and see their new house (I'm so jealous!!). We spent lots of time at the park there and Kason loved it! Plus, I had to take Kameron to Buzz's since he'd never been! They have such yummy food! Thanks Rand and Karen for letting us stay with you and share your weekend with you guys!! We miss you too!
Kason absolutely LOVED this slide! We seriously went down it 50 times. He had so much fun!
Exploring: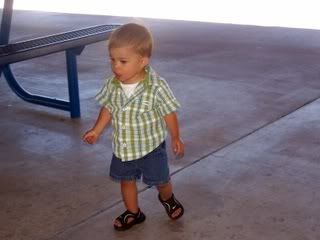 Such a handsome boy!!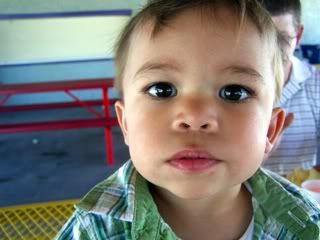 Prepared just for you by Our Ohana at 1:33 PM 6 people showing their love  

Thursday, June 19, 2008
Wednesday, June 18, 2008
Sunday, June 15, 2008
Thursday, June 12, 2008
Tuesday, June 10, 2008
Monday, June 9, 2008
Sunday, June 8, 2008