TEMPLES.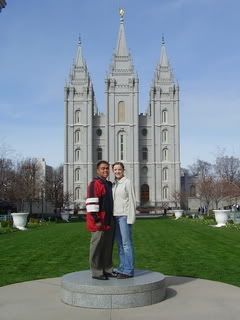 Yesterday I was able to go do a session in the Mesa Temple (thanks for watching Kason mom!!). And it was one of the best sessions I have ever done. I really wanted to focus and try to get alot out of it because of everything we've been going through lately. I was particularly in search of some guidance in regards to our financial situation. I got in way before the session started which was really nice because I had lots of time to clear my head and say a prayer. As I get into the session I was suprised at how much I got out of it! I learned and noticed a lot of things that I had never even noticed before. We had a moment where we had to wait for about 10 minutes so I was able to think about everything and say another prayer for guidance.
I think I was expecting a huge revelation. I was expecting it to be some magnificent advice that would make everything clear. Well, as I got into the Celestial Room and I sat and thought for a minute. I realized, I don't need a huge revelation. I don't need someone to look me in the eye and tell me what we need to do. What I realized and what I learned from being in the temple yesterday was simply this ...
FAITH
. It's something that I've always known. If we put our faith in the Lord, everything will work out. I walked out of the temple with the strongest reassurance that if we can both put our trust in the Lord, that our family will be taken care of.
What's funny is in Activity Days this past week we talked about faith. And today at church one of the speakers, talked about faith. It really reiterated the importance of having and practicing faith. I am so grateful I was able to go to the temple yesterday. It was an amazing experience that I really needed. It's always so refreshing to spend a couple hours in the temple.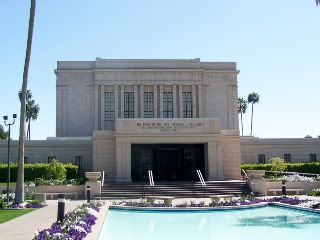 The second reason I am so grateful for temples is because soon I'm going to have one within a 5 minute drive!!! That's right - President Monson announced that the Gila Valley will be getting a temple. I couldn't be more excited about this!!! It's all I can think about. I am hoping to be able to volunteer someway while it's being built, or even for the open house. How neat would that be?! I'm am so ecstatic to be able to attend the temple weekly once it is completed and possibly to even have the opportunity to work in the temple. It really is an amazing blessing for the Saints of this valley.
(Read the press release on the Church news site
here
)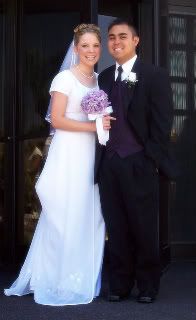 And of course the third reason I am so grateful for temples today is the blessing that I have to be sealed to my wonderful husband, Kameron, for time and all eternity. When we had a scare of possibly losing him, the only comfort I could find was in the fact that we are an eternal family. I knew that if something were to happen to him, I would get to be with him again someday. And I grateful for that knowledge. It breaks my heart when I hear of someone who has lost a family member and they do not have this knowledge of eternal families.

I am so grateful for temples, and my amazing eternal family. Where would we be without these wonderful blessings?!