This weekend was by far, my favorite weekend of the whole month! One of Kameron's old mission president's sent us to the Desert Ridge Resort and Spa in Phoenix - with all our expenses paid!! It was such an amazing weekend!

When we got there and got checked in, we were starving so we wanted to get our things to our room and go get some dinner. Well, it took us seriously like 30 minutes just to find our room! This place was SO huge! We were in a special wing on a special floor that is apparently, really hard to find. So, after we FINALLY found our room we went and had dinner at the Blue Sage restaurant (which was also really hard to find!) and they had the yummiest Mexican food buffet. The food was so delicious and the dessert was to DIE for!

Saturday morning we woke up and went to the Revive Spa and got a couple's massage. It was so incredible. Kameron and I were both so relaxed all day because of it. Afterwards we ate breakfast at the restaurant at the spa. Then we went and explored the resort. This place had 3 pools, 2 hot tubs, a lazy river, golf course, shops, and 6 restaurants! The weather was kind of cool but we really wanted to go swimming so, we got changed and went down to the restaurant at the pools for some lunch. We swam a little bit but it was too cold. So, Kameron sat in the hot tub while I just layed out.
Saturday afternoon one of my best friends from high school, Mekahla, got married!! We went to the sealing and it was so neat to see her get sealed. I love that girl and I'm so happy she has found a great guy to spend eternity with! Then after the sealing we went to their reception and spent the rest of the night there.

When we got back to the resort - we ordered room service!! I'd never done it before and it was SO fun! Neither of us were very hungry but it was just fun to order room service.

Sunday the weather was SO much nicer! So, after having a room service breakfast we went out to the pools and just swam and relaxed all morning. Right before check out we went to eat at the steak house there - oh my goodness - it was SO incredibly delicious! Kameron and I still crave the steak skewers with chile mustard that we had! SO GOOD!

When it was time to check out we were SO sad! I did not want to leave AT ALL. I missed Kason but, I was having the time of my life! I loved every minute of it!! Maybe someday we'll be able to go back there. It was such a beautiful place and I really enjoyed spending a whole weekend with just Kameron. So, thank you Mom for watching Kason! And THANK YOU President and Sister Colton for our WONDERFUL weekend! We will never be able to thank you enough!!

Here are tons of pictures from the weekend:

our room:
the most comfortable bed in the entire world!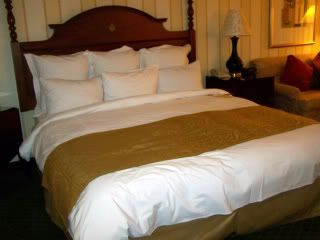 the view from our room: