The Sunday before Christmas we were in Sierra Vista.
Here are a few pictures we took before heading to church.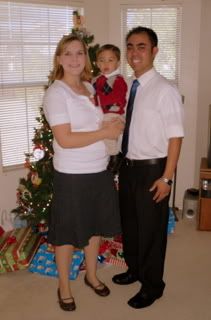 -----
Remember my Christmas WishList?? Well, I guess I'm spoiled because I got everything on my list except for a gift certificate to DownEast Basics.
Here's my loot: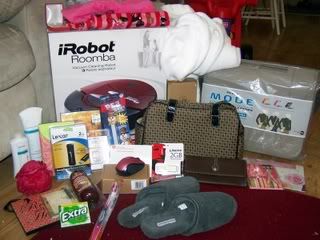 I felt so spoiled this year! This doesn't even include the gifts from my family! My dad got us a DVD player for the car which is HEAVEN! He also got me a bike trailer which we LOVE using & a sweet little MP3 Player that I've been wanting! And with a gift certificate to Target that he got us I got a new bike!
My brother, Jeremy, got us one of those blankets that we can pick a picture to put on it! I'm excited for that!
And my mom got us tickets to see WICKED in June! I can't wait!
Then, Jesse got us gift certificates and he got Kason a Leap Frog Little Leaps game - which he LOVES!!
Kameron got a TomTom GPS and a new laptop. Kason got all sorts of Thomas the Train stuff, Wiggles DVD's, his bike (which he wants to ride everyday!), and a swing.

We were very spoiled and blessed this year!!

As a side note ... I would be using my photoshop but, I can't because our wonderful little toddler threw a toy (we think) at my laptop and broke the LCD. So, once I get the screen fixed I'll be photoshopping up a storm!!

We had a wonderful Christmas - I can't believe it's already over. I hate how fast it comes and goes!!