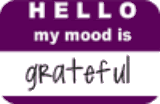 I am indeed grateful for these past few months. The thing that I am most grateful for ... the generosity, love and kindness of others. I am amazed at the amount of selflessness that remains in the world today. We have received so much from so many people. Some we know, so we don't and some have chosen to stay anonymous. And I am grateful for each and every person who shared their love with us.
Since the beginning of all of this we have recieved:
- Close to $3700.00 from numerous people (and it's still coming). These people will never know how much it relieves the burdens on our shoulders to recieve even the smallest amount of money. I am forever grateful for each person who has sent us money. You each know who you are and I want you to know, you are our saving grace. You are the angels watching over our family. And we are truely eternally grateful for you.
Thank you.
- Diapers, wipes, paper plates, paper towels, toilet paper, food, cleaning supplies and so much more. I honestly think we've got enough toilet paper and paper towels to last us the rest of the year.
- And the support, phone calls, letters & cards, prayers, visits and everything else that we have received. It is all appreciated so much. And tonight my heart is full of gratitude for each person who has gone out of their way to make us feel loved and let us know that someone out there is thinking of us.
I hope this post doesn't come across as generic. I just wanted everyone to know that our family is so grateful for everything that has been done for us. I especially wanted a way to thank those who have chosen to help us but wanted to stay anonymous. So
thank you
to each and everyone of you who has in someway helped our family these past few months. You will never know the impact you had on our family's life. And to those of you who give in the future
thank you
. I have a new appreciation for service and someday, I know I will have the opportunity to pay it forward to someone else who is in need, just like our family is now.