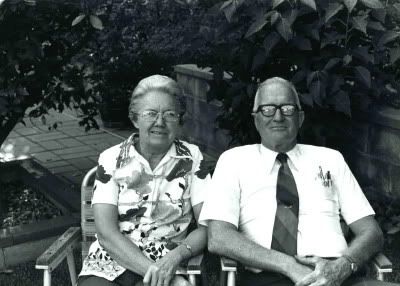 (this is a picture of my Grandma and Grandpa Young in La Habra CA in the 1970's)

June 14th we had a Young Family Reunion in Payson. (my mom's side of the family) So we were up there for the weekend to spend time with family. It was so good to see everyone! I really wish that I had gotten more pictures since we don't get together too often. I might have to steal some of Emily's when they get posted on her blog. Anyways - here are some pictures from the weekend ...
We took Kason to Christopher Creek and he was pretty intrigued by the rushing water!
Playing with a pinwheel during the family meeting *whoops!*

The Payson Library has an AWESOME children's room so we took Kason to see it and get out of the heat!

Swimming in the FREEZING Payson pool!
Modeling his Great-Grandpa's Cowboy hat. My grandpa was almost ALWAYS wearing a hat! That is one memory I have of him.


It was a fun weekend and I'm glad we were able to get together as a family. My mom did an AMAZING job planning it and getting everything taken care of!! It was a good relaxing weekend.

(ps: I just realized ALL my pictures are of Kason ... I think I have a few of other people, I might have to find them and post them along with the one's I snatch from Em.)