WOW ... I have been putting this blogging thing off bigtime!! Way back in July ... almost 4 months ago (!), our life was normal (crazy thing huh?) ... well sort of. Kameron was in the ER in Sierra Vista for most of the night on July 3rd. We didn't get back to see a doctor until like 1, I think? I can't remember really but, as soon as the doctor saw Kam he knew that he needed some serious medical attention. So, he did some tests and got a transfer set up. Kameron was transferred to Tucson Medical Center and got there around 5am on July 4th. I went home and got a few hours of sleep and then packed up and headed to Tucson with K.

These are some of my favorite pictures of all time. They were taken in Kameron's first hospital room, before any of the tubes or machines. He was up and walking around. These pictures are the last ones taken of him before he was confined to a bed for 6 weeks and before any awful machines were hooked up to him. I wouldn't normally take pictures of him in the hospital but, it was a holiday and this is how we spent it together.





That night K and I went to find fireworks. I remember talking to Kam on the phone and telling him how much we missed having him with us. I remember thinking holidays shouldn't be this way - we shouldn't be seperated on a holiday. But, K and I went and watched the fireworks at the base of 'A' mountain. He loved them but, they started late and we had to get to the hotel so, we left a few minutes into them.


trying to keep him entertained before the fireworks started: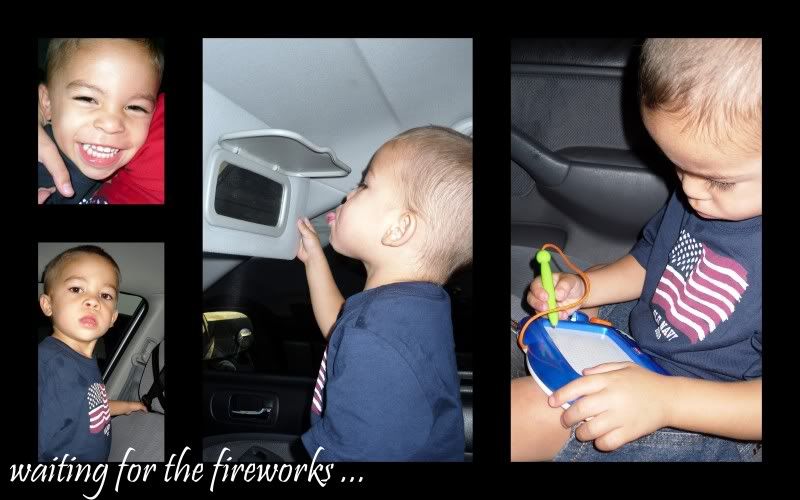 watching the fireworks






The next morning we got up bright and early and headed to the airport. K and I were flying out to Utah for a little family get-together. I had been assured by Kam that I should still go, even though he was in the hospital. So, we headed out (and this is where the post gets really really long and has a ton of pictures! be prepared!) ...


K did fairly good - our flights were long because of layovers and stops but, he did pretty good. On the way from Denver (our layover) to Utah, he fell asleep! I have never been so happy to see him sleeping!






As soon as we got there on Sunday we went to Temple Square in Salt Lake for K to see everything there. I LOVE that Temple Square, SO beautiful! (And ... funny (and embarassing!) story about this temple, this last time I was in Utah I went to the Salt Lake Temple to do a session and I walked up to the temple and walked up those steps in the front, assuming that's where you go in well, nope, it's not. Totally embarassed, I walk down the stairs and find a couple standing outside the temple and I told them, "I'm from out of state, can you tell?!" Thankfully they were very nice and told me they liked my determination to get to the temple. They showed me where I WAS supposed to enter but, I felt so embarassed!! So, just so you know if you ever go to the Salt Lake Temple - don't try and go through those doors! Anyways .. back on track).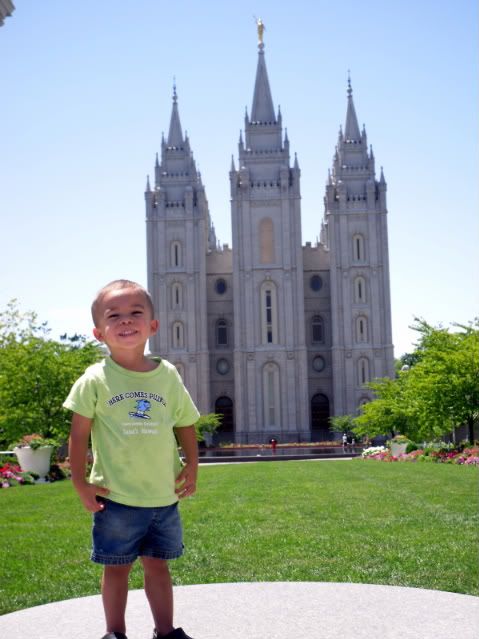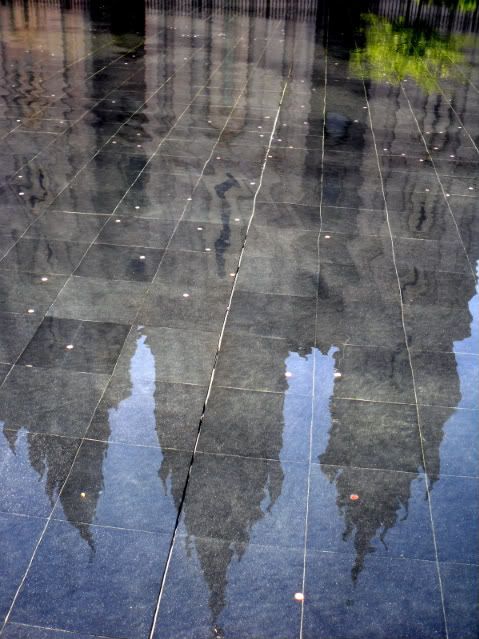 After Salt Lake we headed down to my grandparents house. K was such a clown there ... he had the audience and he was performing!! He's such a goof!






Then, Monday we went down to BYU Campus and walked around, did some shopping (where I bought a hat for Kam for his birthday, that he never got to wear). I THINK this is the day we went and ate at a really yummy Mexican resturant in Provo. And there was music playing out to the sidewalk and K was dancing away ...






Then, we drove up to Sundance and got out and walked around. I had never been up there before and it was GORGEOUS! I loved it.






Ok ... then Tuesday (for some reason I feel like I'm mixing up monday and tuesday but, whatever...) we did the Oquirrh Mountain Temple Open House. I was SO excited for K to get to go inside the temple because he loves talking about them and learning about them so, it was really neat to get to show him all of that.






And then, we headed to a park in Orem (?) for our little family get together. It was fun to spend time with family because I hadn't seem them for awhile. We played games and ate food and went swimming. K was so tired by the time we got into the pool that he fell asleep in the pool! Poor guy!
K just chillin' ...






Joined by Uncle Brad






Some tug-of-war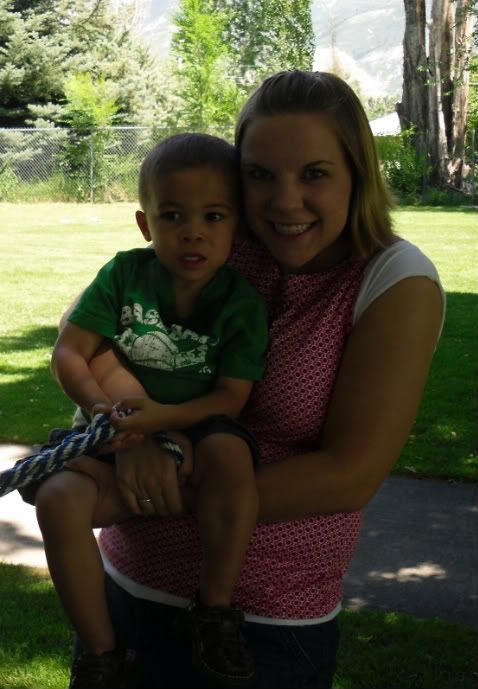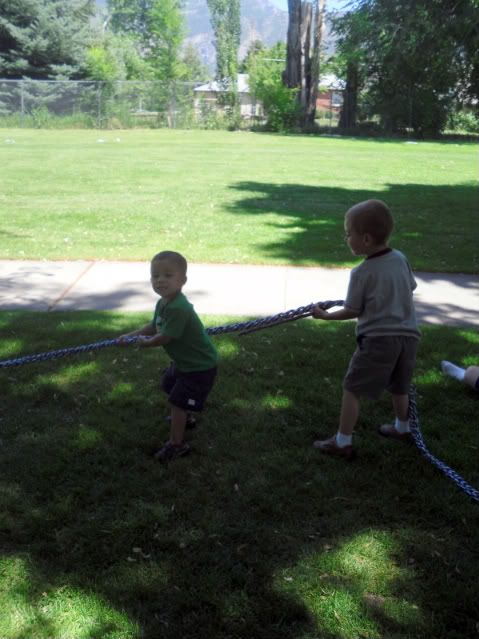 Playing 'Old Bloody Tom' ... it's an old family game that we've played for as long as I can remember!!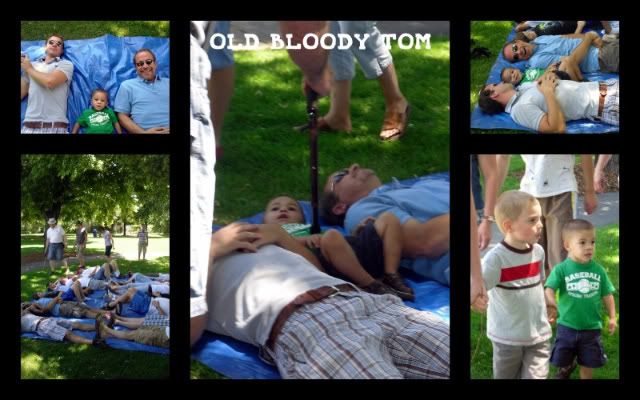 Some cousin love ... K and cousin Cameron






Then, after the park we went up to Salt Lake and went to dinner and took some family shots that Jeremy (my bro) actually took ...

The whole gang






The grandkids (well, not all of them)






Alright ... then we went to a ... space museum? Science center? (totally can't remember) ... and spent some time there before we watched a U2 laser show - very cool. K loved the show!


This cool, ball thing - kind of like the one outside of Chase Field in Phoenix except this one was 2 stories! Very fun! K loved it.






On the moon with cousin Austin






Watchin a video with Grandma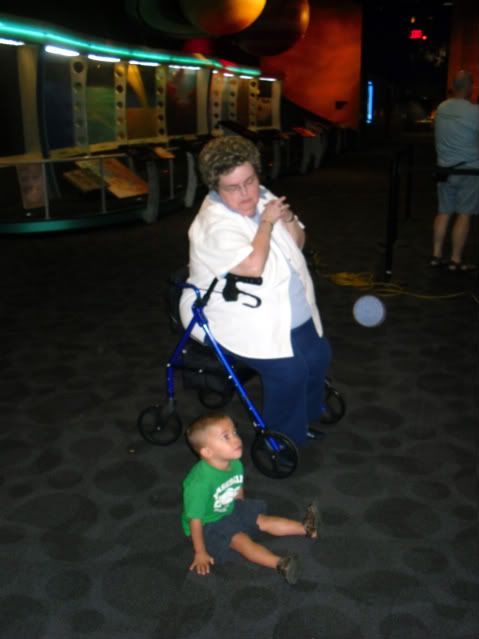 Learning about space from Jane






That night K had to say goodbye to his buddy Cameron (he is my cousin's son) ...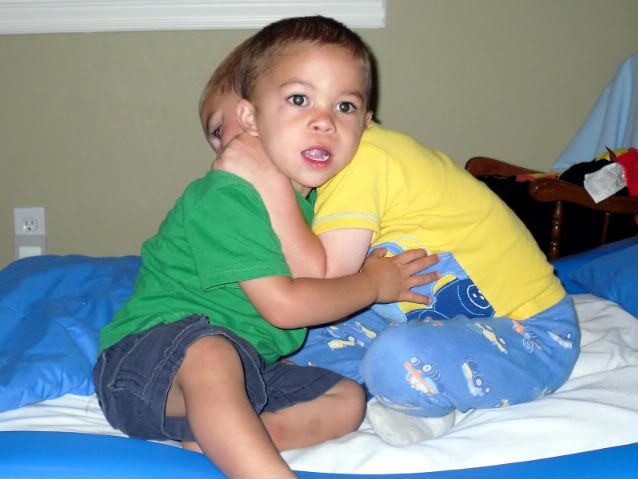 Then we flew home the next morning.






with our pilot! (Kam would be so proud of this picture!!)






It was a really fun trip. It was hard for me to be fully focused since Kam was in the hospital and I wasn't right there by his side but, it was still a fun little trip.

And when we got home, I got a call from Kam's nurse saying they had done some sort of procedure and had decided to put him into ICU, just as a precaution. I remember panicking that they were putting him there because I knew that only really sick people went to the ICU and when I had left, Kameron seemed to be doing okay (walking around, talking, eating, etc) ... so it came as a real shock to me that they wanted him in ICU. One thing I love about Kameron is he was always so upbeat and positive in the hospital. REGARDLESS of what was going on - he was happy. He was always like that. This day was no different. And this day happened to be his 29th birthday and it was the first time they put him on the respirator. The day we got home from our trip was the first day of many, scary and awful things.

Sorry to end on that. It seems like I can't write anything without relating it to Kam in someway. Anyways - congrats if you made it through that whole thing ... that's impressive.