Kason is such a comfort bug!! He does what it takes to be comfy and then he's totally relaxed. One morning Kameron went in to check on him and he found him sleeping like this ...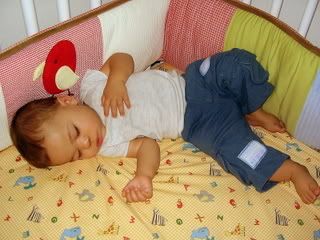 And when we were at Home Depot a little while back, he just totally relaxed in the cart. One leg was hanging down, just swingin', and he was using the diaper bag as his pillow ...
And ... during story time before bed a couple nights ago ... he decided he couldn't wait to be put in his crib. Mom was just too comfy!!