Our
Christmas
was really good! We just stayed home this year, which was a nice change. It was the first year since we have been married that we didn't spend Christmas Day with my family so, I missed them but, it was fun to have Christmas with just our little family.
Gift wise, it was a great Christmas too. Kason got so many toys. We may have gone a little overboard with his gifts but, we couldn't help it!! From us he got some books, a video, a wagon with blocks, an animal train, from grandparents and uncles (this is where he really got spoiled!!) he got: a piano toy, a stack and play, clothes, a singing Eeyore, a bath toy, a stuffed dog and I'm sure there's more. He seriously scored ... look at all this stuff!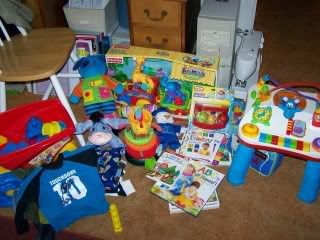 Kameron got some tools, clothes, a deep fryer, a stoneware muffin pan, a fog free mirror for the bathroom, some church cd's, a hard bound copy of the Cambodian Book of Mormon, a couple gift certificate's a food.
I got some scrapbooking stuff, a spa kit, slippers, a sign with "Haban" on it for our front door, Harry Potter 5, and Old Navy gift card, See's Candy (YUM!), some other food and this AWESOME camera!! I'm so excited about this camera, I was so ready to destroy our other camera, it was so old.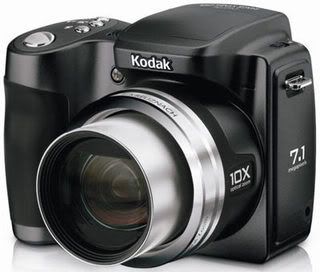 Kason on Christmas eve: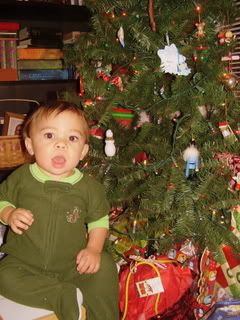 Santa Came!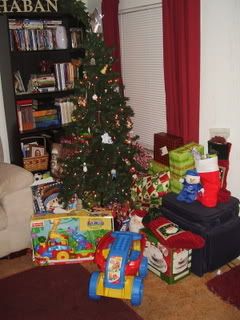 Opening some gifts with Dad: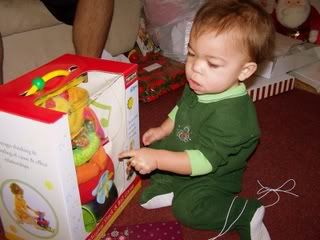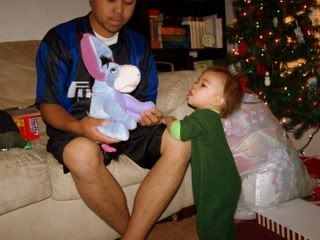 We got to talk to Kameron's brother, Daniel, who is serving his mission in Oregon (Spanish Speaking). It was good to talk to him. He already has a thick Spanish accent and he's only been out 6 months!!
I didn't even get ready on Christmas so we have no family picture but,
We hope everyone had a great Christmas and has a SAFE New Year's!!!
Kason says, "I LOVE CHRISTMAS!"