Kameron and I had our 4 year anniversary on June 25th! I can't believe it's already been 4 years. It's amazing to look back on the past 4 years and see everything that we've done together. It's been a wonderful 4 years - and I can't wait for the rest of eternity (corny eh?) But, it's true - I'm so grateful I am able to be sealed to Kameron for ETERNITY! What an amazing blessing!! It kills me to see other couples get married and not reap the blessings of eternal marriage. Thank heavens for no "till death do you part" in this family!!!

June 25, 2004: Mesa, AZ Temple
(sorry about the quality of these - I had to scan them in)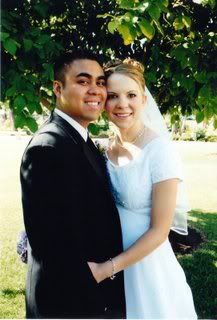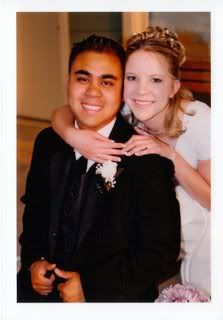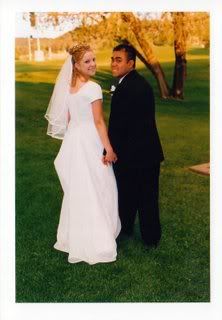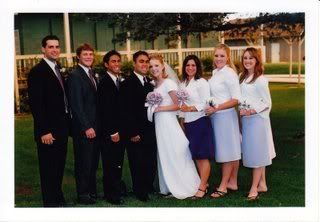 I LOVE these girls! They are all so amazing! I miss 'em!!! And I'm so excited because come August 9th - we'll all be married! (Karilyn is the last to join the club!)
This picture is so special to me, this is a picture of our Sealer and his wife. Bud and Virginia Whipple are family friends and he does sealings at the Mesa Temple so we were able to have him seal us! It was pretty neat - this is taken at our luncheon after the ceremony! Such a neat old couple!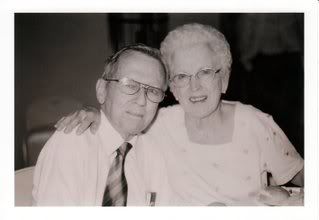 I know now that I would change somethings about our wedding day ESPECIALLY some of the pictures (I didn't get a picture with my dress train out or with my grandpa that was here from Utah ((sorry Grandpa)) or our rings) oh and I would have been on time!! I think I was 45 mintues late to take pictures the morning we got married (whoops!) But, everything else was perfect :o)

For our anniversary we went out to dinner - child free. That's always a treat!! Then I think we went to Walmart - exciting huh??

Well, I have LOTS more to post about so I'll get on it ASAP!