I have been thinking
alot
lately about ways to be more frugal.
With the economy the way it is and not very much of
this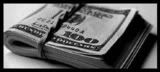 to go around.
I'm realizing how important it is for me to stretch our dollar even further.
Here are some ideas I've come up with to save us some money...
* I am planning on making my own laundry detergent ("recipe" found
here
)
and, using homemade cleaning supplies.
* I need to start getting coupons again (and actually using them!!!)
* I definately need to make more home-cooked meals and less "from the box" meals.
* I am amazed at some of the deals people find at consignment or thrift stores ... I want to start making regular visits!!
What are
some of the things
YOU
do to live
frugally
and save
a

little extra money
?