I haven't posted about just Kason for awhile so, I thought I would update you all with what he's been up to, along with some pictures I've taken over the past few months.
* He will be 21 months on November 11!
* He loves to say 'hi' to everyone.
* He also loves to tell everybody 'thank you'!
* He has a hard time walking because he would rather RUN everywhere!
* He can jump and skip and stand on one foot.
* He LOVES going on walks and asks to go for one everyday!
* He knows that dogs go "woof", cats "meow", ducks "quack", and cows "moo"
* Some of his everday words/phrases are; Kason, cheese, juice, hi, thank you, mom, uh-oh, tv, shoes, bath, poo-poo, that's funny, daddy, matt, ginger, please, walk, lunch, dog, book, salsa, bed, bath, chair, car, eyes, mouth, nose, toes, ears, monkey, mouse (as in Mickey Mouse), toys, play, mine, ow, pizza, apple, banana, hat, pumpkin, hot, sticker, yes, no, more, done, up, bird, popcorn, fish, house, all done/gone, down, balloon, keys, baseball
* He loves to read books
* He can point out the color blue and can say most of the other colors
* He counts - 1,2,3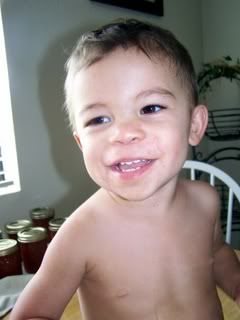 * He LOVES The Wiggles, it is so fun to watch him dance around the living room while he watches it.
* He is a climber, he loves to climb on to the kitchen chairs and on top of the table (this drives me crazy!)
* He LOVES dancing! Anytime there's music on he's dancing around the house!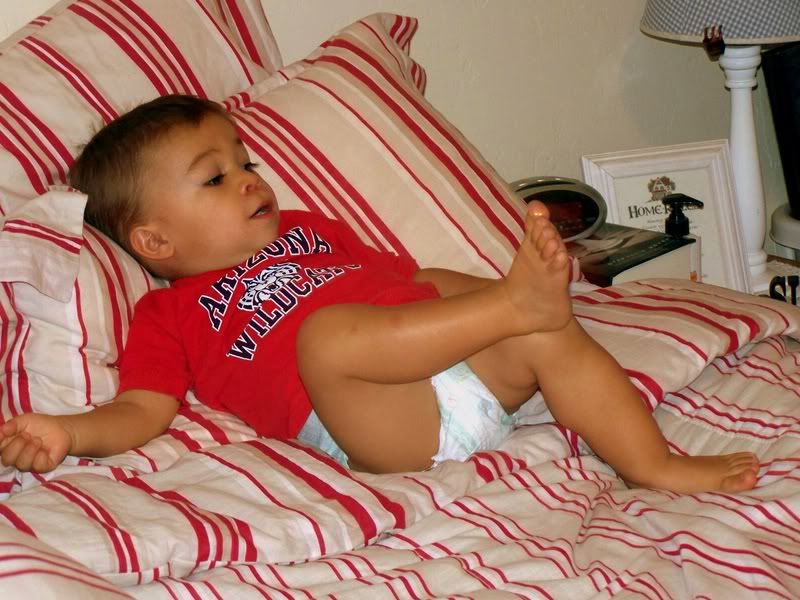 watchin' some tv on mom and dad's bed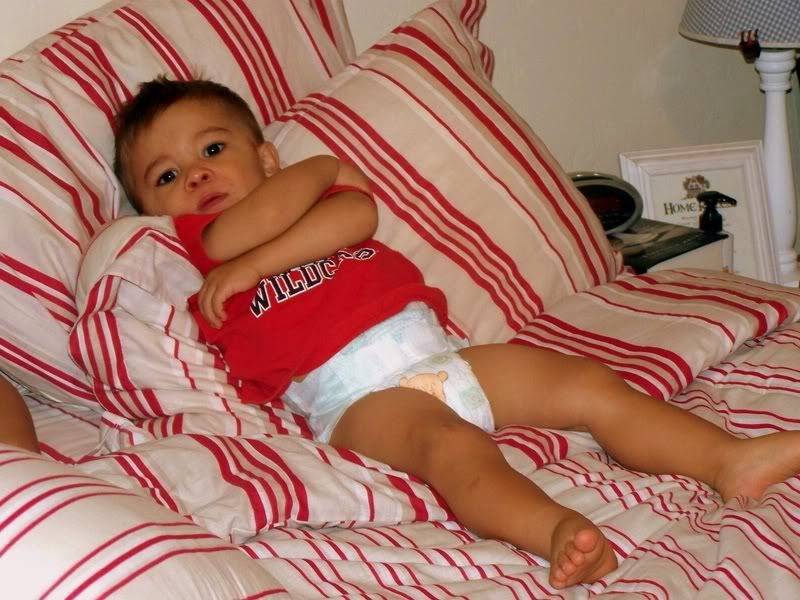 * He is a HUGE helper! He'll even push a chair over to help in the kitchen while we're cooking.
* He especially loves to help Kameron unload the dishwasher.
* He is actually pretty good at sharing, too.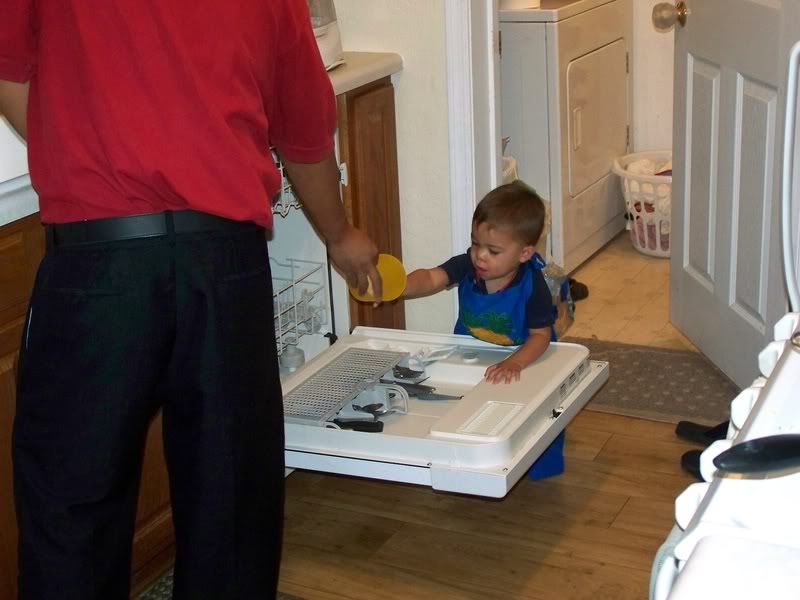 *sharing snacks with his bear*
* He loves to sing and hum and is always asking me to sing him a song. Some of his favorites are; "Book of Mormon Stories", "Wheels on the Bus", "Itsy Bitsy Spider", "Popcorn Popping", "Jesus Wants me for a Sunbeam", "Head, Shoulders, Knees & Toes". He asks for them by doing the signs that we do during those songs! He loves it!
* He also loves to sit at the piano and play - he always has to have a piece of music in front of him when he's playing!
*He is SO sweet - he loves giving hugs and cuddling. He especially loves giving kisses! He will sit there, looking at you with his kissy face and waiting for you to give him a kiss - and he'll stand there until you give him a kiss! He loves to give kisses to mom and dad back and forth.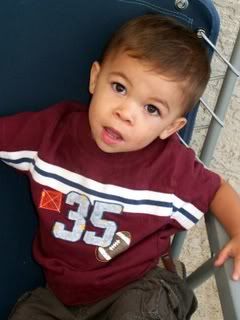 * He has been a real daddy's boy lately - he asks for 'daddy' all day and gets so excited when he pulls into the driveway!
* He whispers all the time and says, "shhhhhh" if anything is sleeping.
* He loves to play outside, he would probably play outside all day if we let him!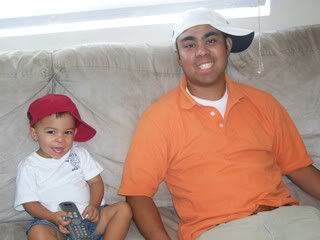 * The past week or so he has been asking to sit on the potty to go "poo-poo" so it looks like we're going to be gearing up for some potty-training soon!
* He has been SO good about picking up his toys - even without us asking sometimes!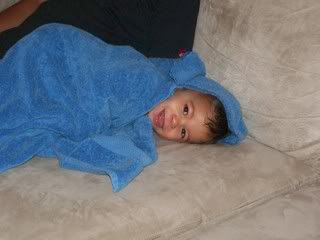 * The other day we went to go check on him during his nap and he had put both his blankets and his bear in a neat little pile right next to him. It was so funny! I wish I had gotten a picture but, I didn't dare wake him up!
* He is kinda OCD about stuff, doors have to be closed, drawers have to be shut, chairs have to be pushed it. He's such a goof.
* He LOVES playing at the park but, he climbs to the top and the decides that he doesn't want to go down the big slide so I have to climb up and rescue him!
* He loves folding his arms for prayers and he works on saying his own prayers.
* After we say our family prayers, before Kason goes to bed, he always hands us the Book of Mormon so we can read from it! He never lets us forget our prayers or reading from the Book of Mormon!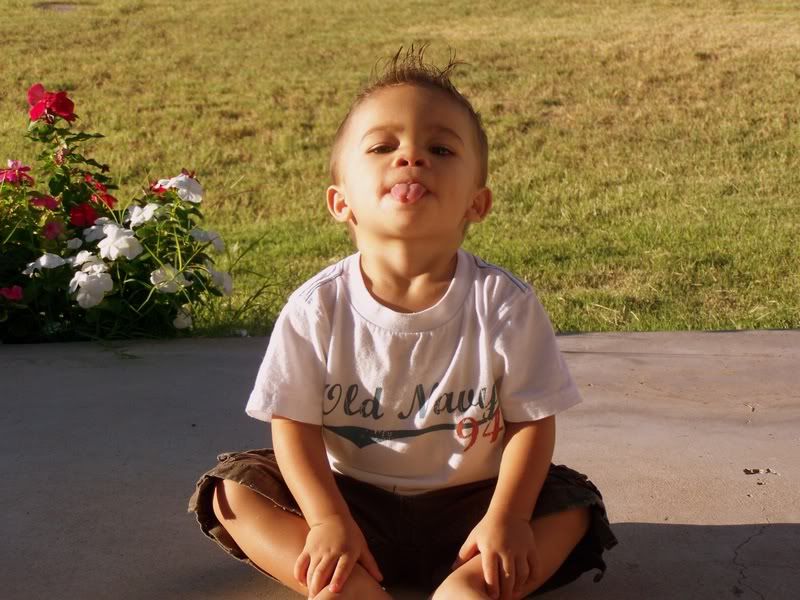 So, even though ...
He's in a destruction stage and a spitting stage.
He hardly ever listens to his parents.
He's in a throwing stage - especially throwing food.
He thinks that time-out is fun.
He's in the "mine" stage.
He talks back and rolls his eyes.
He pushes me to the edge almost everday.
He really is a wonderful kid.
We love him so much and we're so grateful to have him as part of our family!