Each year we have the Easter
Bunny visit us on Easter Eve, instead of Easter Morning, that way we can focus on the true meaning of Easter on Sunday instead of getting distracted by the worldly things!

So, Saturday morning Kason woke up to eggs all over the house and a basket on the table!
He got Pinnochio & Madagascar, a puzzle, a little stuffed chick and a little bit of candy!
After eating breakfast we went to Veteran's Park for the City's Easter Egg hunt! It was FREEZING but, we braved it anyways. They do a little carnival where you can play games and get your picture with the Easter Bunny. It was fun, I just wish it had been a little warmer!


getting ready to hunt!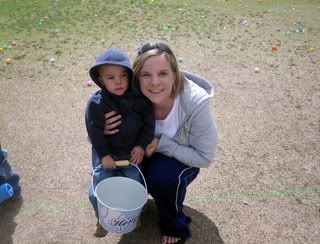 picking up the eggs!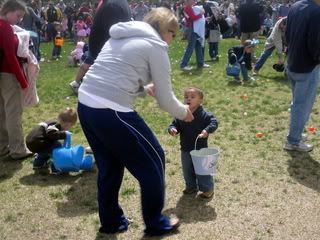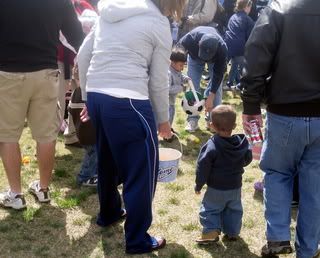 All done! Kameron said it was seriously like 20 seconds of organized chaos. One second there were hundreds of eggs and the next they're all gone!!
When we were standing in line Kason saw the Easter Bunny and asked me if he was sad.
I told him "No! Easter Bunny's are happy!"

Well, we get up there and he's so excited to see him, he takes the picture and then as we're leaving he asks the Easter Bunny ...

"Bunny, are you sad?"

HA! I was laughing so hard as I carried him away. He is so funny.