May has been so crazy.
I'm glad it's over but it was such a FUN month!!

May 4th was my birthday. I turned the big 23. I am starting to feel a little bit old. I'm slowly inching closer and closer to being 25 and that scares me a little bit. But, it's all something we've gotta do right?!


Everytime I hit a birthday I feel like I don't look my age. So, I always go crazy shopping and getting a haircut, in hopes that I will feel like I look older. This year when I went shopping I got some AMAZING deals! Like $6.99 jeans from Aeropostale!!! And I got 3 pairs of jeans, a pair of capri's and a pair of shorts - all from American Eagle and they were each $20 or less!! They're normally $40 or $50!! I got lots of clothes and lots of good deals!


I decided to chop off my hair. I need to add some color and hopefully will be able to get that done this month. It's so much cooler with it so short! I love it!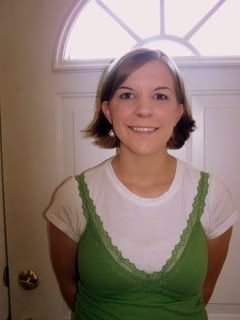 And Kameron and I actually got to go on a date (without Kason!) for my birthday. We went and ate at the R&R Pizza Buffet which was so yummy!

Then on Cinco de Mayo we had; Clint, Tiffany & Maddie Woods, Trent & Adelle Hancock, Curtis, Maranda, Dylan & Cash Whittle and Mason over for some Mexican food! It was SO yummy and the kids had so much fun playing together!!

I have lots to post about so I'll get to it as soon as I can!