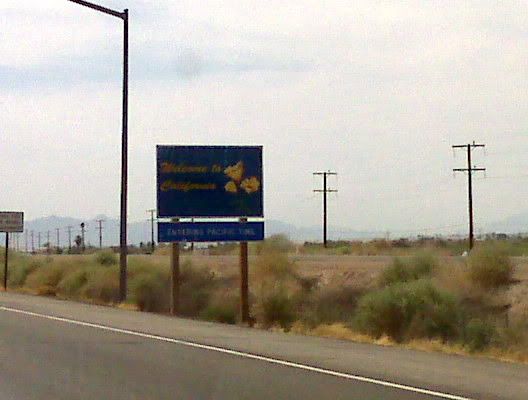 We left for California last Thursday and drove ALL day to Rosamond, CA to stay with my cousin Kristin and her family. I hadn't seen her for years and I had never met her husband or girls so, it was fun to see her and catch up. Kason had so much fun playing with his cousins, he didn't want to go to bed or leave in the morning!!
Friday morning we left for San Francisco! It was such a beautiful drive!! There were grape vineyards everywhere and the hillsides were so green. I loved it!
I had never been to San Francisco so I was excited to tour it. I drove most of the way up there but as soon as we got outside of the city, I had Kameron drive and I am GLAD I did. Driving in San Francisco was INSANE! I didn't think we were going to make it out of there alive!!! Kameron did AWESOME navigating our way through the city. People drive like maniacs there. I also had my first experience with toll roads! We had to pay $4 stinkin' dollars to cross a bridge - I made sure I really enjoyed my trip over the bridge since it cost us so much!
My first ever toll bridge!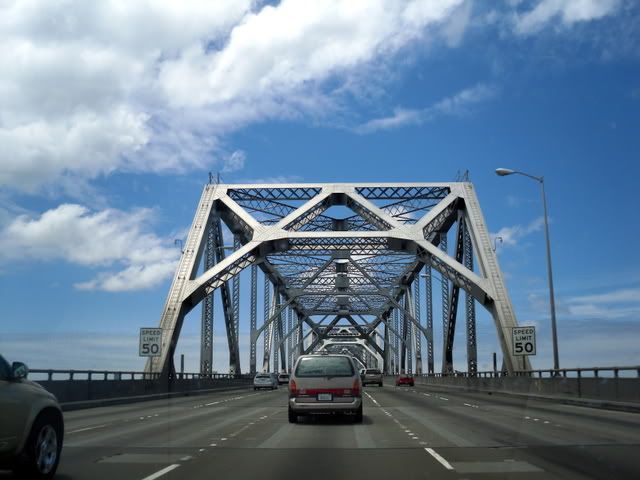 Once we found a parking garage by Pier 39 we waited for Kameron's cousin and his family to get there. While we were waiting for them we took a few pictures of Alcatraz. We didn't take the time to do the tour but, it was pretty crazy to see it out there in the middle of the bay!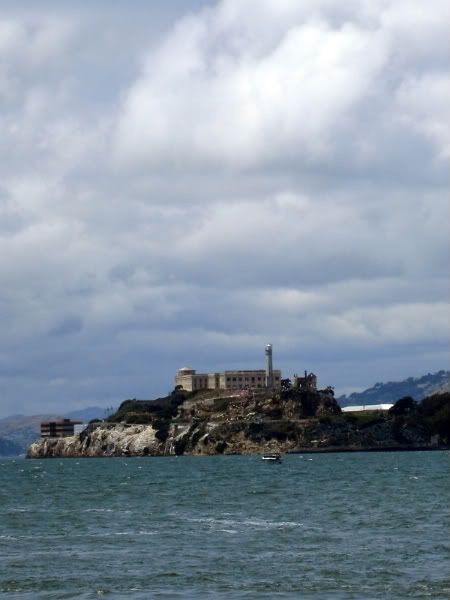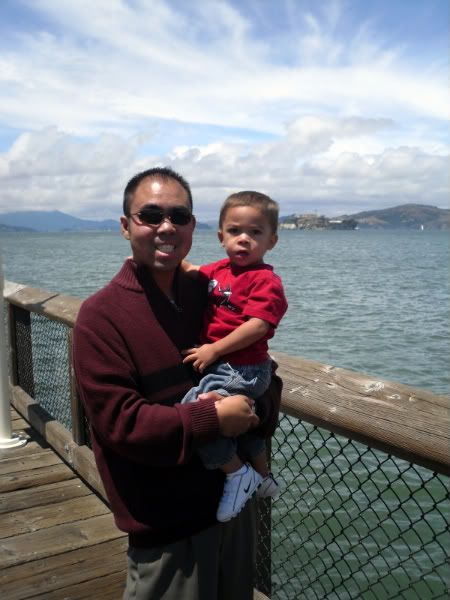 When Dustin & Elizabeth (& kids) got there we checked out the Pier 39 Sea Lions. Kason loved them but, they sure did stink!! We also ate some of the yummiest doughnuts I have ever had - and I don't even like doughnuts!!!!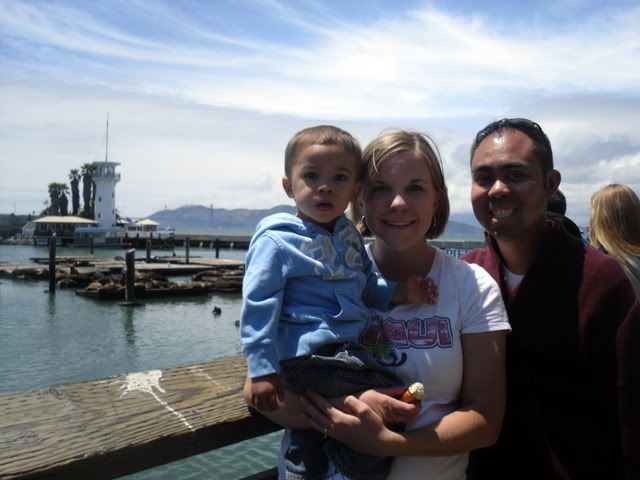 I think it would be so neat to live right on the bay and have such a beautiful view. Too bad the houses are like 1/2 million each!
I love this though!
More Alcatraz:
We walked past Fisherman's Wharf, but didn't stop. It's not really my thing to see a bunch of dead fish lying around.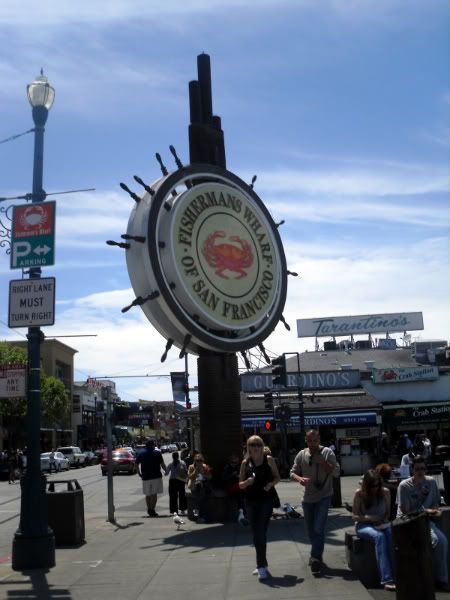 We took a break for Dustin to get some In-n-Out and let the kids run around for awhile. Kason sat on these flowers and then afterwards saw that he had crushed them so he told the flowers sorry and gave them a kiss. Silly boy!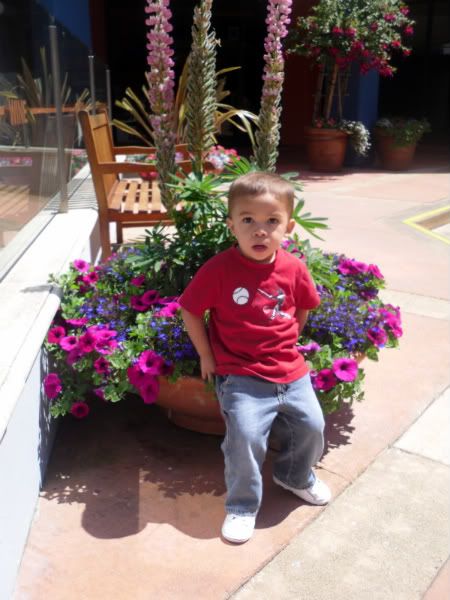 We went to Ghirardelli Square and got some yummy chocolate (thanks Dustin & Elizabeth!!). The hill up to the square was ridiculous! It wouldn't have been too bad if we hadn't all be pushing strollers!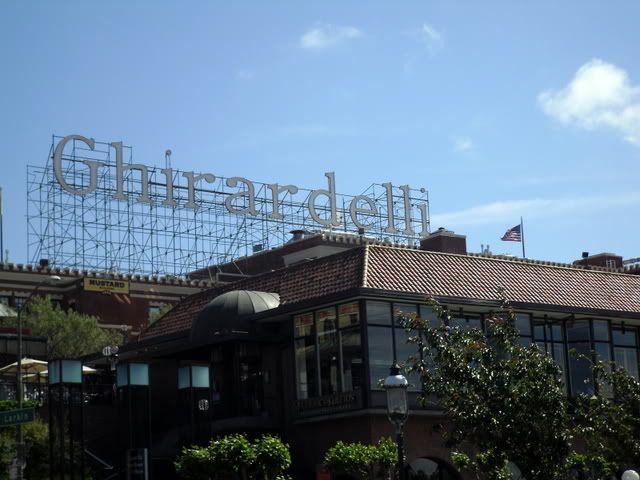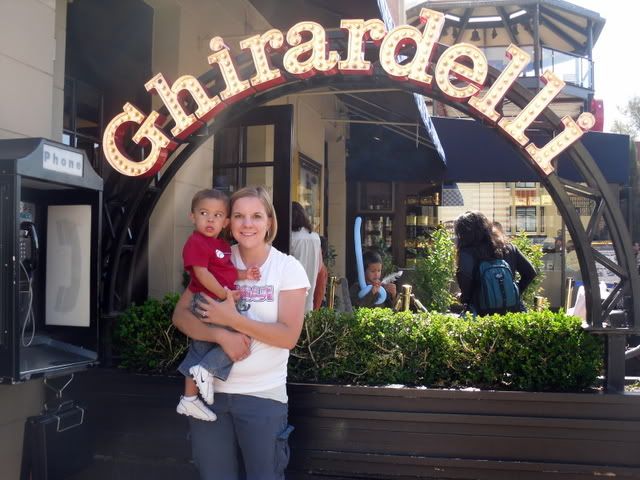 Then, we headed home. We were going to do Lombard street but, I did NOT want to deal with the traffic again and if we waited much longer we would hit major traffic on the way home. So, we just headed back to Dustin & Elizabeth's. These are a few pictures on our way out of town.
The TransAmerica building:
Some clock tower: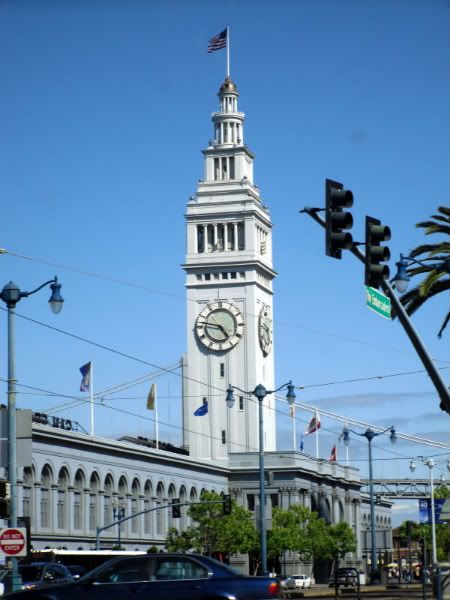 It was a fun day! The weather was perfect and I loved getting to see all of the San Francisco touristy stuff!!
**********
Part II: Six Flags - Discovery Kingdom